As part of the Eaglesfield Park Playground project we are inviting local children to help design our dream playground.
We are looking for contributions from all ages.
Turn it into a game. Roll a dice and see what you get. Each dice has different designs for you to choose from. Scroll down to download, print off, cut out and you're ready to roll.
Don't like the designs? You can create your own design. There's a blank dice for you to draw on your own design.
Step 1: Download each dice
Step 2: Print off each dice
Step 3: Cut out each dice
Step 3a: If you're creating your own dice – draw on your own playground equipment to each side of the dice
Step 4: Glue each dice and leave to dry
Step 5: Now you're ready to play.
Step 6: Once you've chosen your design send results to Friends of Eaglesfield Park
Email: [email protected]
Facebook: https://www.facebook.com/foepse18/
Click on the images below to download
Swings and Things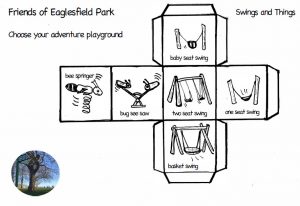 Frames and Games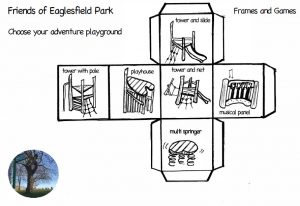 Dynamics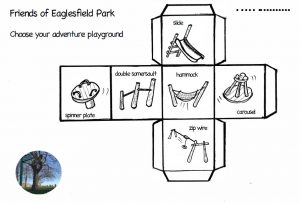 Draw your own playground design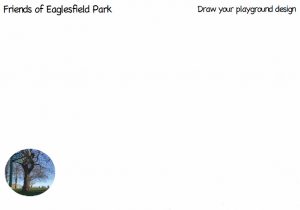 Create your own choosing dice