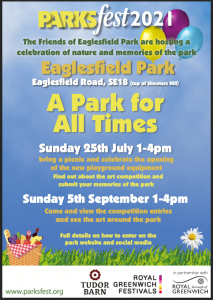 This coming Sunday 5th September is our rescheduled Parksfest 2021 event.
Do come and join us for music, junk modelling, art exhibition, park history and more. Bring a Pic Nic and stay for eta afternoon or stop by whilst walking the dog and if you prefer to view from home we will capture as much as possible on the social media and website for you to join in.
Do keep on sending us you images, artwork, stories and snap shots as we will keep building the galleries on the website.
Please spread the word to neighbours and friends as we would love to see everyone. There is no entry fee and all activities are free.